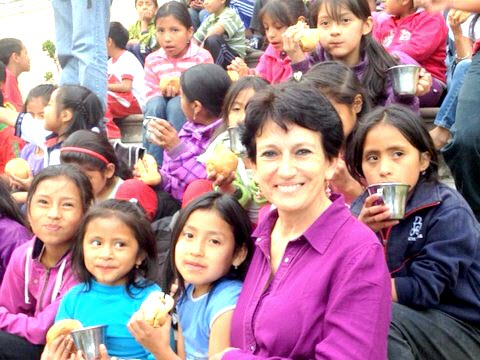 Hello!  My name is Alicia Duran-Ballen, dreamer and founder of a place of love and beauty for children at risk in Old Town Quito, Ecuador.
 A place we call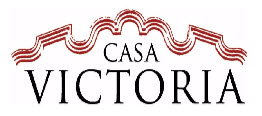 Part of the dream was to create a Pizza-Café for Casa Victoria so that the income generated from this small business could help us continue to provide a safe, loving and fun environment at Casa Victoria for these children of low income families. Here they are able to truly enjoy their childhood years instead of roaming the streets aimlessly.

But this is how it all started…
A long time ago, I fell in love with a dilapidated historic mansion, located in a "bad" section of Old Town Quito, Ecuador.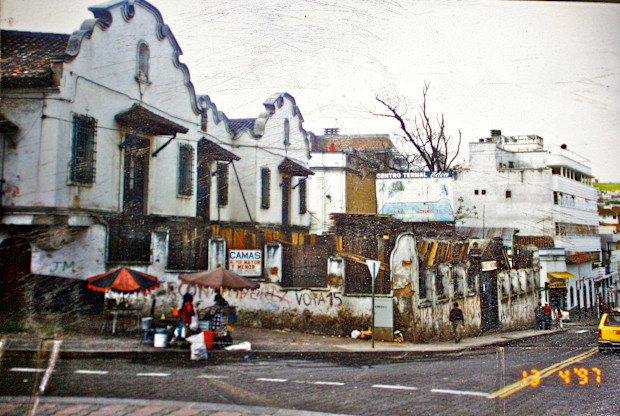 In 2001, an enthusiastic group of friends and I started our Non Profit Organization, Fundación Casa Victoria, registered under the Ministry of Social Welfare of Ecuador, on Nov. 21, 2001,  by Decree # 2288.  We bought this grand old house, and spent five years lovingly restoring it to make it available to the community.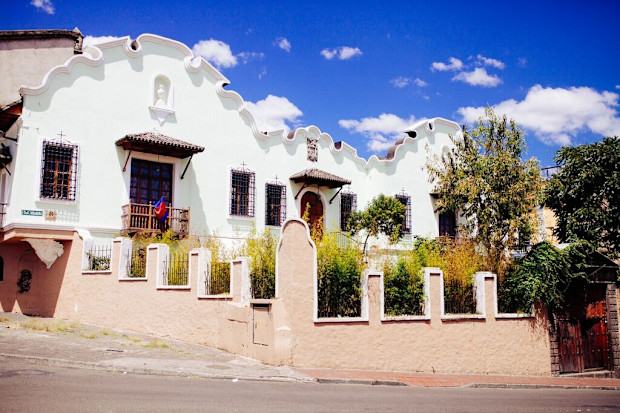 In 2007, we opened Casa Victoria as a place of care, love and service for children of low-income families.
One of the services we provide in this beautiful house is a daily unique after-school program for these neighborhood children  whose parents are mostly produce vendors in the local market.  Many of them are unschooled and poor, coming from rural areas of Ecuador.  Living in rented two-room spaces, they usually do not have extended families with them in the city.  Without Casa Victoria, their children would have nowhere to go after school and would be forced to spend their time on the street, exposed to thieving, prostitution, and drug use.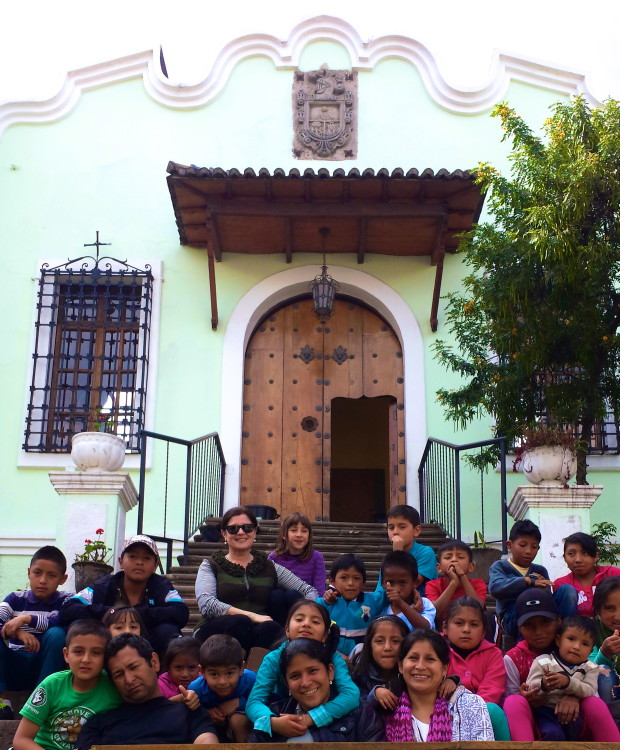 Our Casa Victoria team: Dana W., (back row);
Alex, and his wife, Eve; Irene O. 
Every afternoon, we offer an alternative: we welcome 60 children to our Casa to help them with homework, to read with them in our little library, to teach them Biblical Principles, computer skills, arts and crafts, and to play soccer. We also provide them with a hot, home-cooked meal.
For the last 8 years, we have served over 400 children, thanks to monthly contributions from generous sponsors who have believed in us at Casa Victoria.
We feel, however, it´s time for us to be more self-sustainable,  to rely less on outside contributions, and to come up with a financial solution which would keep Casa Victoria running.  We decided to start a small business that will generate some steady income.
We are excited to share with you the opportunity to join us in our campaign to start
Pizza-Café Casa Victoria! 
Since we already have the perfect space in our Casa for it, there is no need to search for one to rent.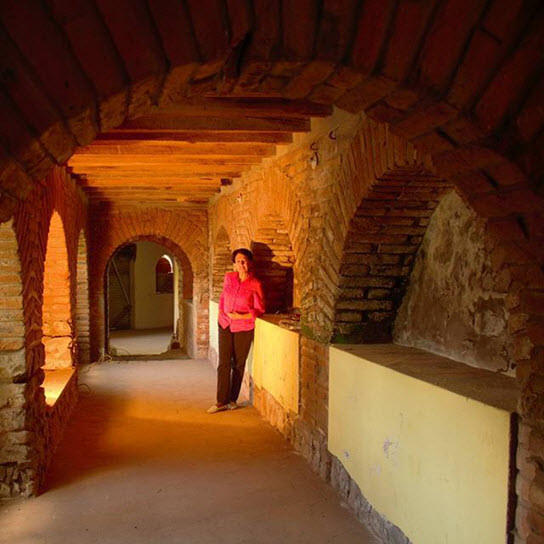 Our marvelous cellar of Casa Victoria, which, with your help, we will turn into a lovely Pizza-Café
Thanks to a generous initial contribution some months ago, we bought a pizza oven and have been making tasty pizzas for delivery. They have been received very well by the community and are already in high demand.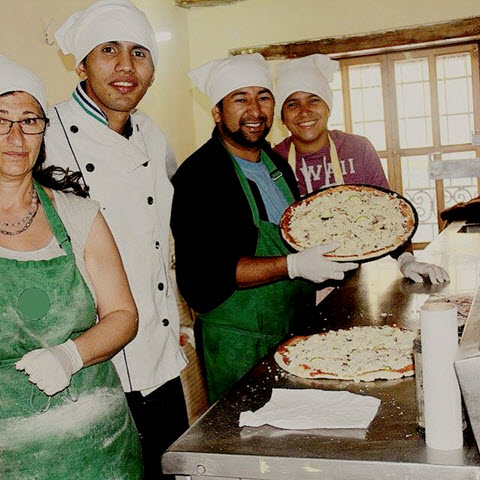 Casa Victoria´s  volunteers  preparing PIZZAS TO GO!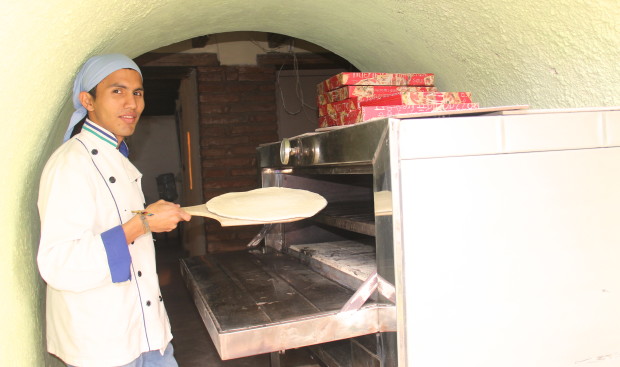 We have been successful because our ingredients are home-made: our own Italian-style thin crust; our tomato and herbs sauce with our home-grown oregano, thyme, and basil–which our Casa Victoria children are learning to plant and tend  in our little vegetable garden.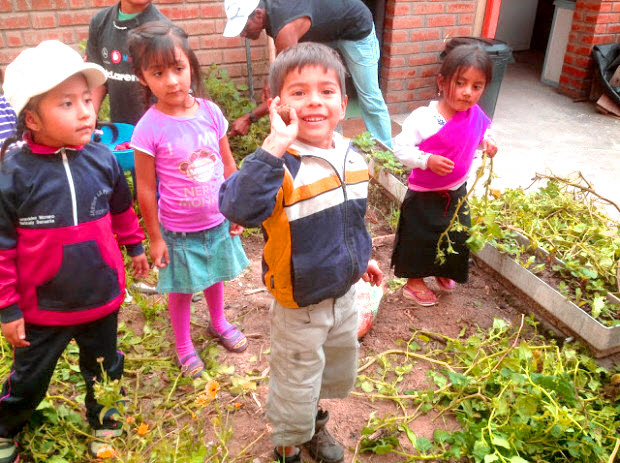 Before planting...
Planting….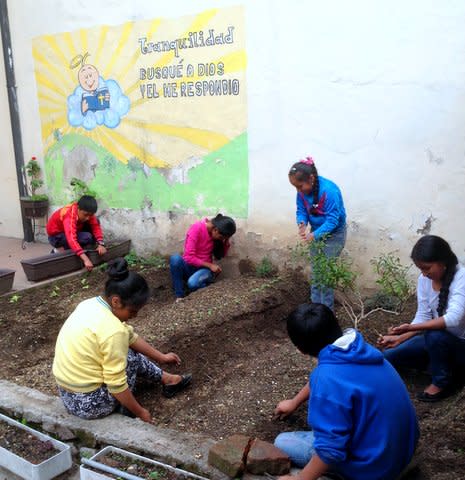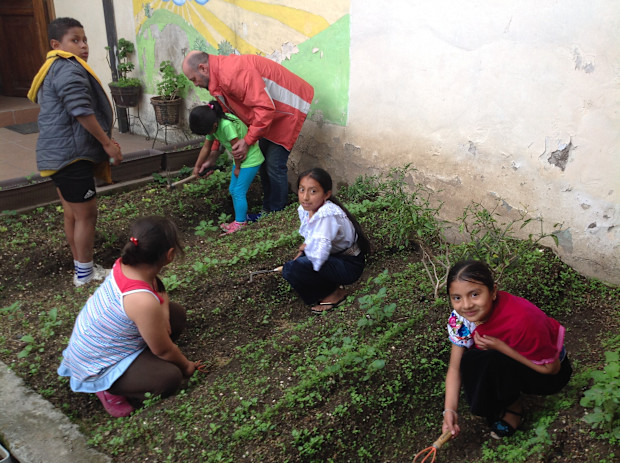 Tending….
"Danielito" G. helping out the children in the vegetable garden
Also, we buy the freshest, ripest,  juiciest tomatoes, zucchini, onions, garlic, and mushrooms from some of the parents of the children of Casa Victoria who work as vendors at Mercado San Roque, the produce and fruit market only three blocks  away from us!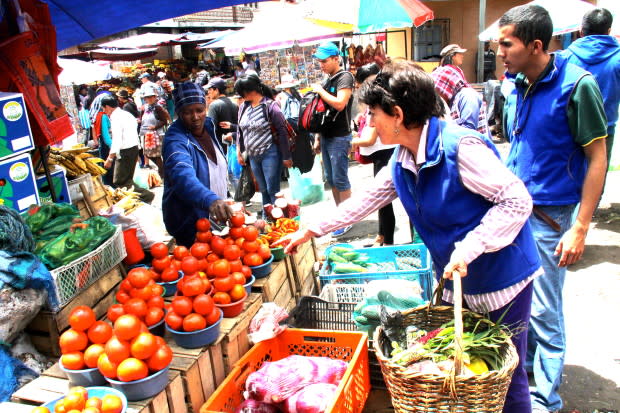 Jorge and Mamalicia buying fresh, ripe tomatoes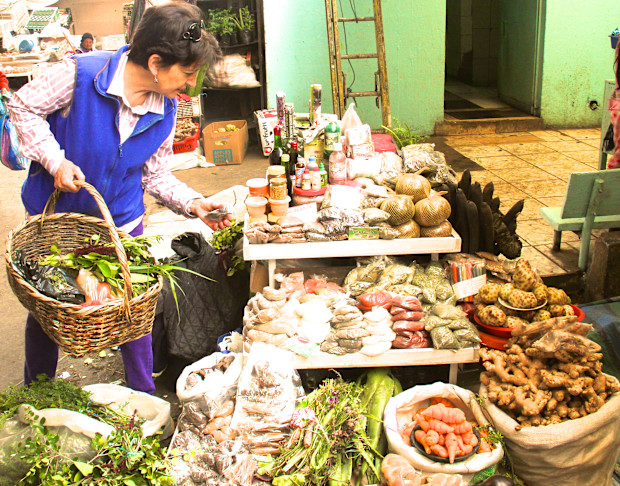 Choosing aromatic spices and herbs at San Roque Market
But we want more than just Pizza Delivery!  We want a full-fledged Pizza-Café. Why? Because 1) we want a place where we will give our adolescent alumni a job opportunity where they can learn valuable skills by teaching them hands-on excellence in customer service, food preparation, and managing a small business; and 2) generate income to  keep Casa Victoria running.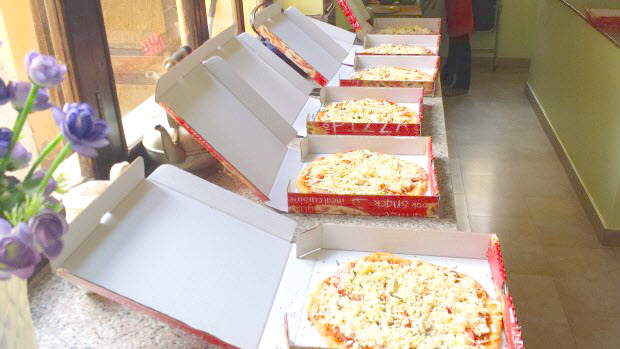 With your tax deductible contribution we will be able to turn the cellar of Casa Victoria into a beautiful Pizza-Café without altering its historical identity and charm, while, at the same time, giving it all the modern conveniences such as WIFI, large tables for students to gather, a modern washroom, and a functional commercial kitchen area.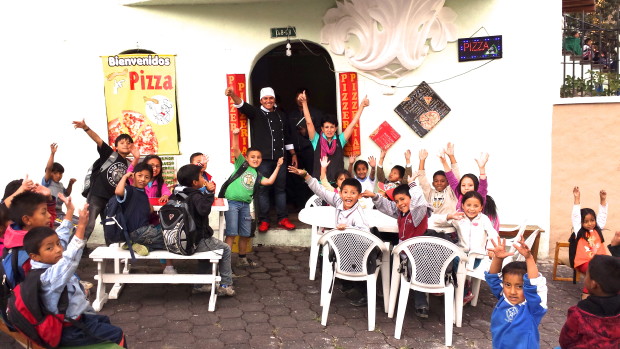 Please join us in creating our Pizza-Café Casa Victoria!  
Remember that the income generated from this small business will help Casa Victoria to continue  its free service to the children of this underserved area.
*************
We Need $28,000 to Start Our PIZZA-CAFÉ 
Here's how it breaks down: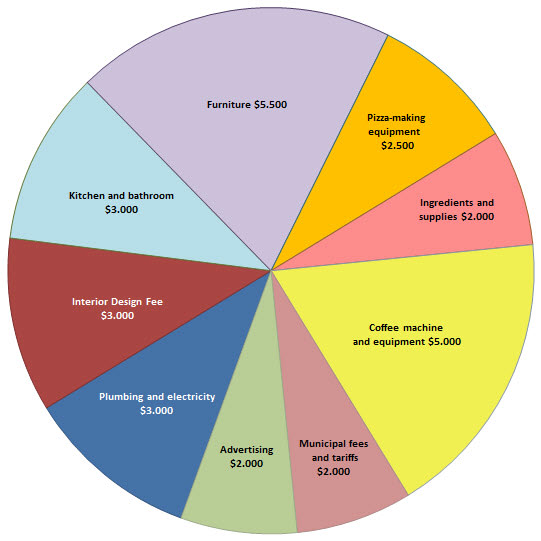 Our Partners… 
SOME OF OUR PERKS ARE PROVIDED BY:
ZIGZE PRODUCTS
Please click on our website below to choose designs: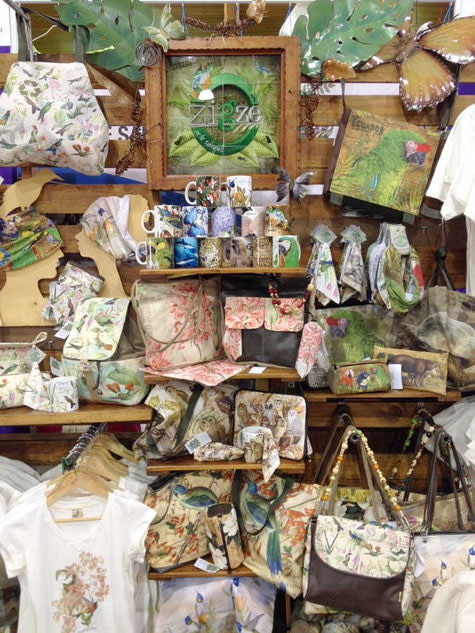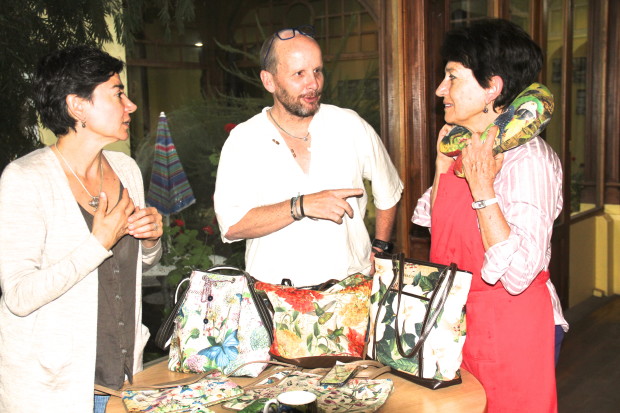 Maria Paz, owner, and Juan Carlos, artist and designer, wife and husband team, at Casa Victoria, showing us their beautiful and unique products–our PERKS for you!***************
University San Francisco de Quito-USFQ–who made the video above
pro bono for Casa Victoria!

Colegio de Comunicación y Artes Contemporáneas
Universidad San Francisco de Quito
Email: mjtroya@usfq.edu.ec
Quito, Ecuador
http://www.usfq.edu.ec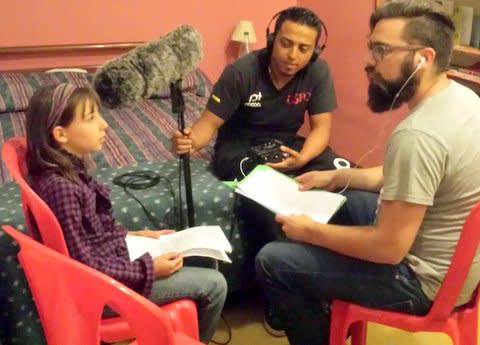 Communications professor Fabian Varela, and student Robinson Sánchez of  USFQ, taping Julia´s comments for the video.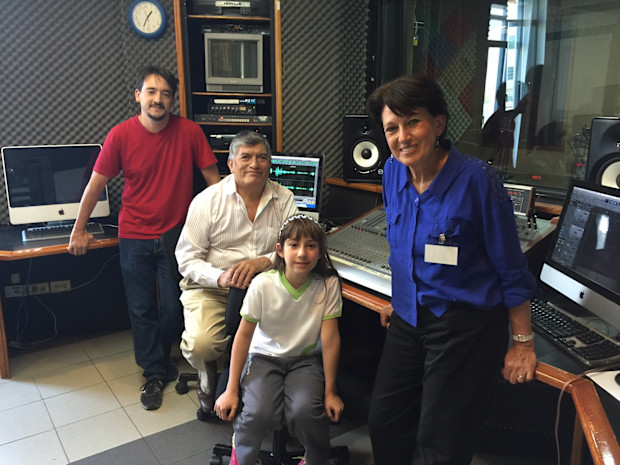 At USFQ Audio studio, with Prof. Mario Troya, sound tech. Marcelo,  Julia, and Mamalicia.
                                                       Thank you USFQ!!
*************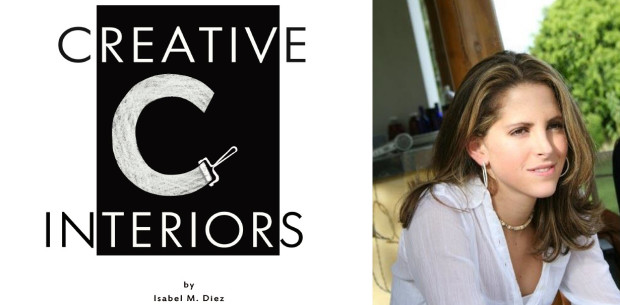 Creative Interiors-–Isabel María  Diez, Interior Designer
A lovely young designer and mother of two toddlers who has a passion for making places beautiful
"My role in this project is to do and oversee the entire interior design proposal of  Pizza-Café Casa Victoria.  I fell in love with this project not only for the challenge to transform their unique cellar  into a space that invites patrons to enjoy themselves here and return often, but also because the
funds generated, will allow Casa Victoria to continue providing a safe-haven for     at-risk children–which I have seen them do with such love and dedication."
 Lauseker Coffee Experts—-Pablo and Erick Velasco

A father and son team who have quickly become well-versed in the coffee advising sector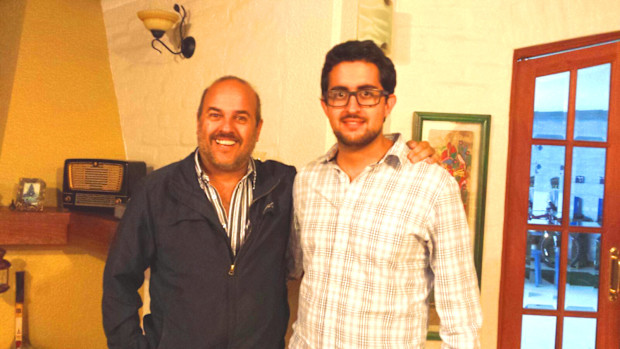 "We will provide Casa Victoria´s  Pizza-Café  with our high quality coffee, our fine coffee maker machine and professional grinder, plus give a workshop to Baristas so they will be equipped to prepare and serve coffee with excellence and care. Additionally, we will conduct regular quality control visits to  make sure it is consistent and tasty as the first cup.  We know this will be a first-rate coffee shop 
plus with an admirable purpose!"
 The Impact 
Our Pizza/Café project will greatly impact the neighborhood where we serve, not only because we will have a quality Café with excellent service and food, but because we will be the first in Plaza Victoria to provide such a service.  Neighbors will follow and also improve their own little shops and businesses along the Plaza when they see that tourists and nearby college students will be our daily clients.
We will offer free WIFI, a modern restroom, excellent service, and never-before-heard-of- in this part of town:  satisfaction guaranteed in all our products to all our clients.
************************
OUR TRACK RECORD IN TRUST AND CREDIBILITY…


Because of Casa Victoria´s hard-earned trust during the past 14 years, we wereawarded grants from CRISFE, FONSAL, INNOVAR. These are prestigious Ecuadorian institutions who backed us up financially because of their belief  in our integrity and the good works we do for the children at Casa Victoria:
2003-2004- 
Funds for Rebuilding the whole roof and several wooden floors.
2006–2007-INNOVAR-–  

Funds for Library and Computer Stations equipping, plus training our librarian.
2011– 2013 
FUNDACION CRISFE
Funds for fixing the wooden floors of two stations; funds for the children´s meals  for two years; coordinators salaries during the 2-year support.
2008-2012-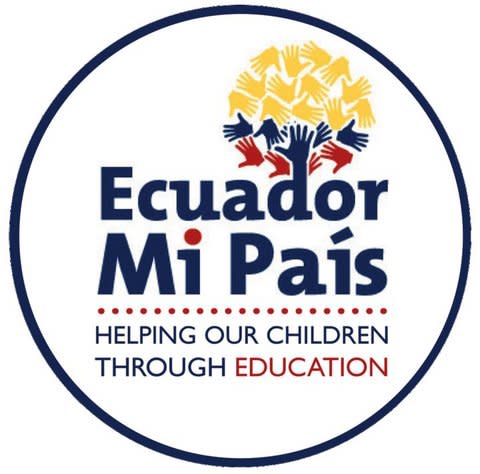 FUNDACION ECUADOR MI PAIS
Funds for 20 scholarships per year, during 4 years.
**********
This year,  we´ve had an added blessing during all of 2015;  a person from a very well known supermarket, gives us a monthly quota to buy groceries to prepare daily meals for the children.
Many individuals have also contributed personally for several renovation works and equipping we have done throughout the years.
Because there are no organizations in Ecuador that provide grants to start a small business to support an NGO such as Casa Victoria, we have turned tocrowdfunding Indiegogo as the perfect means to raise the funds we need to make this small business  a success!
                                Please join us in making this happen!  
                                            ***********************
Risks & Challenges
·  The main challenge is that, although our beautiful house sits right on Plaza Victoria, it is located in a poor section of Old Town Quito which is not yet a tourist spot.
·  Our street and plaza are budgeted by City Hall to be part of the urban regeneration plan for 2016, we hope this is a reality so it becomes a destination worth visiting.
·  If we don´t meet our 28K goal, we would still use whatever amount to start restoring enough to make it functional. We would purchase part of the furniture, pay all the legal fees for operation, and serve pizzas only.  Maybe wait a bit for the coffee machine, etc. and the "coffee side" of the Café…
But, we have faith that the good Lord will provide what is needed through wonderful friends and friends of friends…and even, strangers!  Gracias to all!!